Introduction:
Craving the tantalizing taste of momos? Look no further! Momoway, the premier momo restaurant in Bhubaneswar, is here to satisfy your cravings and take your taste buds on an extraordinary journey. With a passion for perfection and an unwavering commitment to quality, Momoway has earned its reputation as the go-to place for momo lovers across the city. In this article, we will delve into what makes Momoway the best momo restaurant in Bhubaneswar and why it should be on every food enthusiast's must-visit list.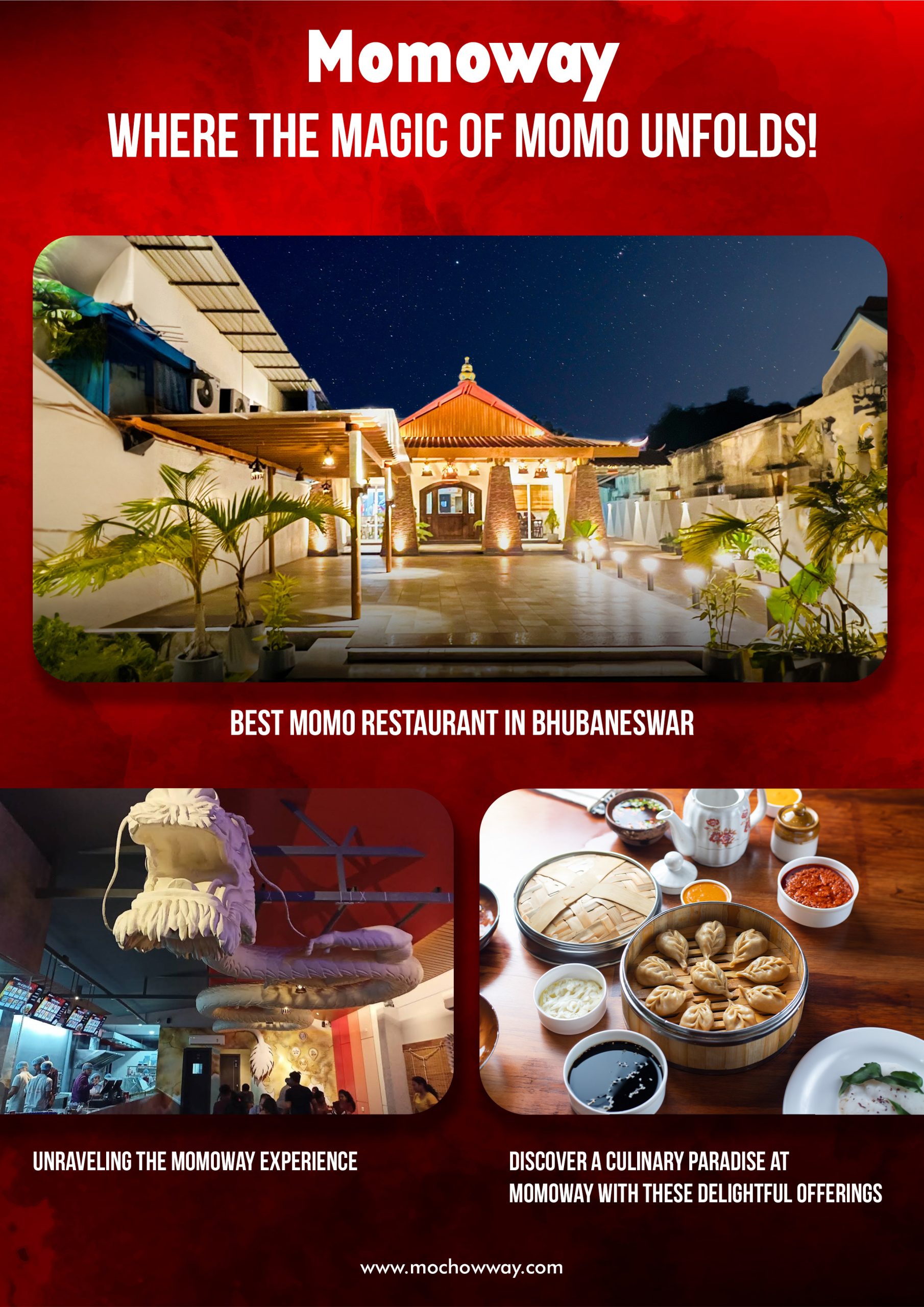 Momoway – Best Momo Restaurant in Bhubaneswar
Unraveling the Momoway Experience:
At Momoway, we believe that momos are an art form, and our skilled chefs are the artists who bring them to life. From the moment you step into our vibrant and welcoming restaurant, you'll be captivated by the aroma of freshly steamed momos wafting through the air. Our menu boasts an extensive selection of momo varieties, ranging from the classic steamed and fried options to innovative fusion creations that will surprise and delight your taste buds.
Exploring the Momo Haven
Discover a culinary paradise at Momoway with these delightful offerings:
Momoway Specials:
Veg Momos
Paneer Momos
Chicken Momos
Mutton Momos
Prawn Momos
Veg Wheat Momos
Paneer Wheat Momos
Chicken Wheat Momos
Mutton Wheat Momos
Prawn Wheat Momos
Veg Buckwheat Momos
Paneer Buckwheat Momos
Chicken Buckwheat Momos
Mutton Buckwheat Momos
Prawn Buckwheat Momos
Veg Spinach Momos
Paneer Spinach Momos
Chicken Spinach Momos
Mutton Spinach Momos
Prawn Spinach Momos
FAQs – Your Momo Queries Answered!
Are the momos at Momoway freshly made?
Absolutely! We pride ourselves on using only the freshest ingredients to create our momos, ensuring an unforgettable dining experience.
Does Momoway offer vegetarian momo options?
Yes, we have a wide range of vegetarian momos that are just as delicious as their non-vegetarian counterparts. Our vegetarian fillings are crafted to perfection.
Can I order momos for takeaway or delivery?
Certainly! Momoway offers convenient takeaway and delivery services, allowing you to enjoy our scrumptious momos in the comfort of your own home.
Does Momoway accommodate dietary restrictions?
We strive to cater to various dietary needs. Please inform our staff about any specific requirements, and we will do our best to accommodate them.
What sets Momoway apart from other momo restaurants in Bhubaneswar?
At Momoway, we go above and beyond to ensure that every aspect of your dining experience is exceptional. From the quality of ingredients to the skillful preparation, our dedication to perfection is what sets us apart.
Hear It From Our Happy Customers
Here are some testimonials from our delighted patrons:
Deepika Swain
"Enjoyed momo and noodles. Excellent taste!
Would definitely recommend and their staff behavior was good. Enjoyed my cozy winter lazy dinner."
Rohit Shaw
"I can easily bet on the cuisine that you will not get anywhere near the city.
Momo and Chowmin options are uniquely healthy and tasty.
The ambiance is too good and has a classy feel.
A must-try spot and a great place for short hangouts"
Valentina Nahata
"I recently stumbled upon this newly opened momos & noodles place, and I'm glad I did! The atmosphere is warm and welcoming, with cozy lighting and tasteful decor. The menu offers a great selection of momos and noodles. But what really stood out was the quality and taste of the food – it was clear that the chef uses fresh ingredients and has a deep understanding of the cuisine. Each dish was bursting with authentic flavors and presented beautifully. The service was also excellent, with friendly and attentive staff who made me feel right at home. Overall, I highly recommend this restaurant to anyone looking for a delicious and authentic momos and noodles experience. I'll definitely be back!"
Suman Pradhan
"This was one of the best places for mutton momos and jhol momos … The jhol momo is an interesting concept they introduced in bbsr. It's all worth it.
We can customize our order. Add anything we like. Chose any filling, chose our own momo base. Also lip-smacking noodles and thukpa. Wanna try Nepalese, cuisine must visit this place.
The ambiance is great, airy space, great for photographs and stuff. Also has a good parking place. Really nice vibe.
Vegetarian options: It has a wide variety of veg options and they taste good too"
Manas Bisoi
"Vegetarian options: Every dish has a veg, chicken and mutton option. So you can easily customise your order as you like.
Food is prepared live, so 100% assurance of the authenticity
Kid-friendliness: Lots of open and bounded safe space available, kids definitely enjoy the place and the restaurant is equally cooperative in this matter
Parking: I feel, around 6-8 cars can be easily accommodated here.
It's inside the restaurant premises, so very convenient"
Conclusion:
When it comes to the best momo restaurant in Bhubaneswar, Momoway stands head and shoulders above the rest. With its diverse range of momo offerings, passionate chefs, and a warm and welcoming ambiance, Momoway guarantees an extraordinary dining experience that will leave you craving for more. Whether you're a momo aficionado or someone looking to embark on a culinary adventure, Momoway is the ultimate destination to satisfy your momo cravings. So, why wait? Head over to Momoway and let the magic of momos unfold!
You can order through Swiggy & Zomato.
Visit MomoWay Today!