Come to Momoway for an unforgettable experience with freshly made steamed momos! Share them with friends and family in our cozy atmosphere and enjoy the delicious flavors of these traditional Tibetan snacks.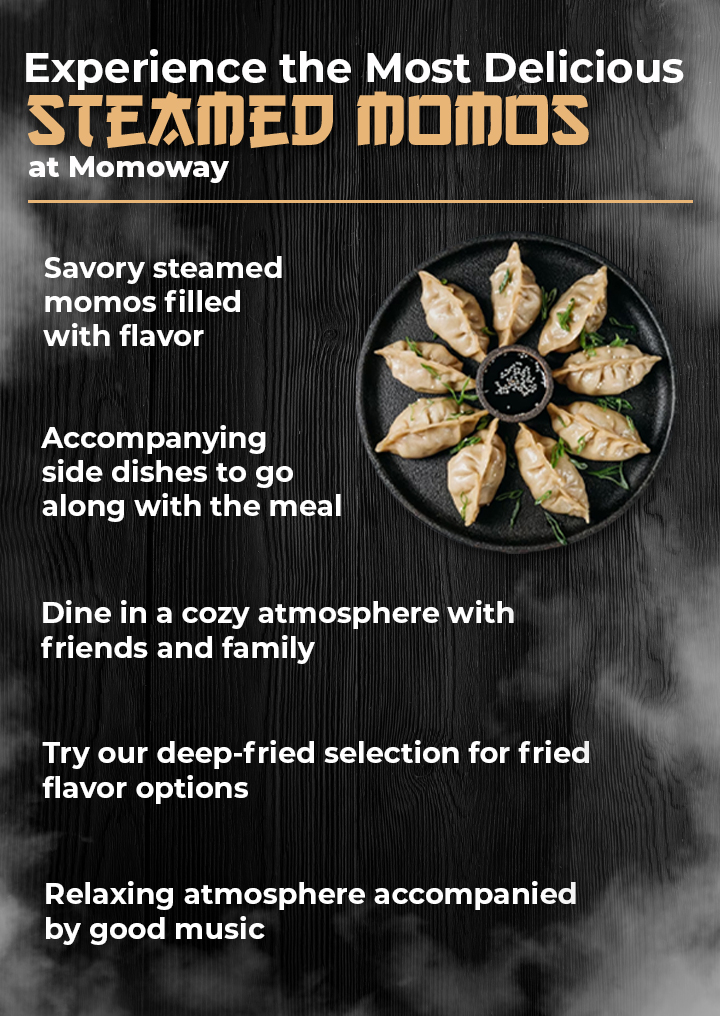 Savory steamed momos filled with flavor
At Momoway, our steamed momos are made using fresh and delicious ingredients for a unique flavor that you won't find anywhere else. They come in a variety of flavors such as chicken, mutton, and vegetable. Try one with our special sauce for an extra burst of flavor! Our friendly staff will be more than happy to assist you in selecting the best momo for your taste buds.
Accompanying side dishes to go along with the meal
Round off your delicious Momoway experience by trying one of our accompanying side dishes to go along with your steamed momos. Enjoy traditional condiments such as hot chili oil, garlic, scallion sauce, or hasu-kimchi, as well as a selection of side dishes that complement the meal perfectly. Our spicy Szechuan-style green beans will add heat and flavor to any momo dish, while bamboo shoots in red bean curd offer an interesting twist. Try them all and discover your favorite!
Dine in a cozy atmosphere with friends and family
Momoway is the perfect place to enjoy a meal with close friends and family. With its inviting atmosphere, delicious yet healthy food options, and scrumptious freshly made steamed momos, you will not be disappointed. Whether it's a casual night out or to celebrate a special occasion or holiday, Momoway is the ideal spot to reconnect over good food and fun conversations!
Try our deep-fried selection for fried flavor options
Don't just settle for steamed momos – Momoway also has a selection of deep-fried deliciousness. Our deep-fried momos come with your choice of filling and are tossed in flavorful spices that will bring out the best flavor combinations you can imagine. Pair them with your favorite chutneys or sauces to truly make them your own! Let us take you on a delicious fried food journey with our delectable deep-fried momos today!
Relaxing atmosphere accompanied by good music
When you step into Momoway, you'll be taken away to a place of deliciousness and relaxation. Our atmosphere and vibes will have you feeling like you're part of the family. Enjoy our great selection of music that will keep your toes tapping and enhance the flavor of our freshly made momos! Whether you come alone or with your friends and family, we guarantee that you'll leave with a full stomach and a smile on your face.