If you're looking for a delicious, tasty, and satisfying snack, look no further than Momoway! Our live kitchen serves up mouth-watering momos created with the freshest ingredients. With an array of appetizingly spicy flavors to choose from, Momoway is sure to satisfy any craving!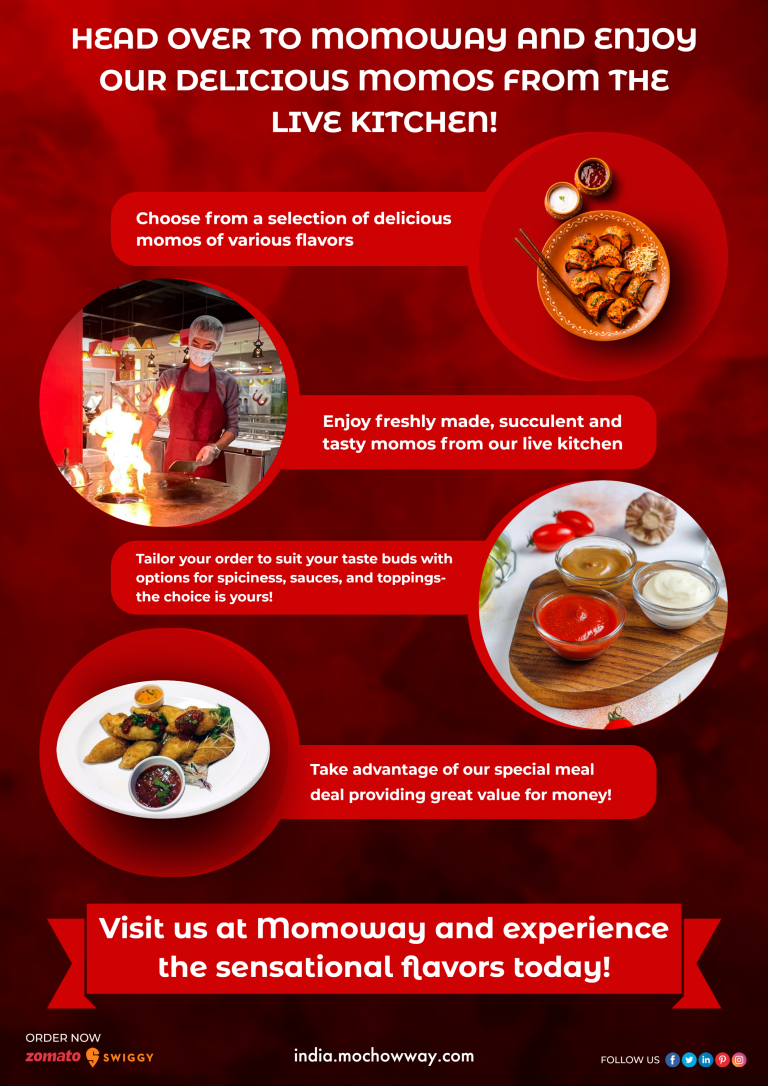 Choose from a selection of delicious momos of various flavors
At Momoway, you can explore a variety of delicious momo options with flavors ranging from Tibetan to Nepalese. All our momos are handcrafted with the freshest ingredients, cooked to order in our live kitchen for an unforgettable taste experience! So come on over to Momoway and indulge in an array of tasty, savory, and spicy momos. Your taste buds will definitely thank you!
Enjoy freshly made, succulent and tasty momos from our live kitchen
Our live kitchen is where all the magic happens. Our expert chefs take great care in preparing your momos from scratch to ensure you get the freshest, most delicious food possible. We also offer a range of unique flavor combinations to tantalize your taste buds like our Tibetan Chilli Momos and Nepalese Cheese garlic Momos. So come on over to Momoway and enjoy an unforgettable dining experience with our freshly made, succulent, and tasty momos!
Tailor your order to suit your taste buds with options for spiciness, sauces, and toppings- the choice is yours!
Whether you like it hot, mild, or somewhere in between, our chefs are happy to adjust the level of spiciness according to your taste buds. You can also choose from a variety of sauces including tomato sauce and chili garlic sauce and decide on any toppings that you would like. You can customize your food experience at Momoway however you like and make sure your order suits your preference!
Take advantage of our special meal deal providing great value for money!
At Momoway, we offer a great meal deal that sees you enjoy two momos and two drinks for an incredible price. Whether you want lunch, dinner, or just a snack, take advantage of this offer to get the best value for your money! Our staff is here to help you customize your order with our wide variety of toppings and sauces. So visit us today and enjoy our delicious momos from the live kitchen!
Visit us at Momoway and experience the sensational flavors today!
Come and experience the sensational flavors at Momoway today with our incredible meal deal! Our live kitchen is cooking momos fresh each day and you can customize your order with a number of different toppings and sauces. We guarantee that you will leave feeling satisfied and wanting more, so why wait? Visit us today for a delightful server of mouth-watering momos from our live kitchen!