If you're looking for a delicious treat that everyone in your family can enjoy, then Momoway is the place to be. Our mouthwatering momos are freshly made with an array of options that can please even the pickiest of eaters. Come experience Momoway's tasty and appetizing selection of momos today!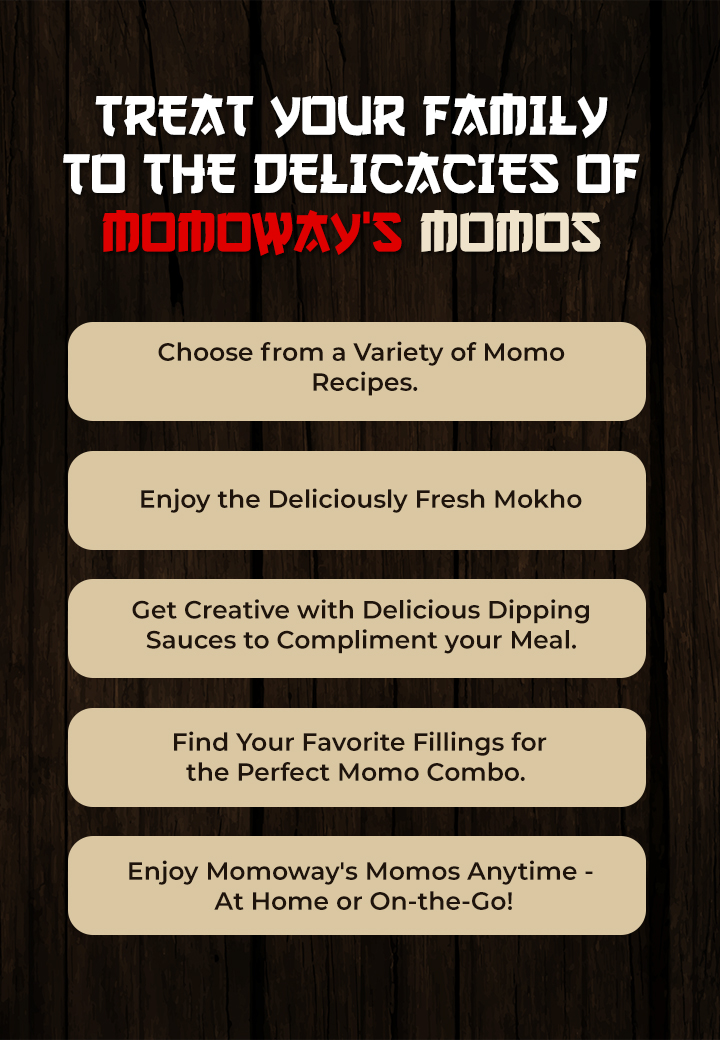 Choose from a Variety of Momo Recipes
At Momoway, we offer a delicious range of momo recipes such as chicken and vegetable, paneer, and much more. You can also choose from our selection of sauces and garnishes to give your momos a unique flavor. Pick up one of our combo packs for the whole family to enjoy!
Enjoy the Deliciously Fresh Mokho
We take pride in the freshness of our mokho. Our layers are added one by one and kneaded until the dough has reached perfection. The result? A deliciously light and flaky momo that serves in a wonderful vessel called mucktoo. Whether it's party time, mealtime, or just a snack, we are sure to have your family coming back again and again.
Find Your Favorite Fillings for the Perfect Momo Combo
We know that every family has their own favorite combination of fillings. Whether it's classic chicken or mutton, vegetarian or vegan, our momos can be filled with whatever your appetite desires. If you're feeling to experiment apart from your regular order, try adding a mix of seasoned vegetables or a selection of traditional seasonings for an extra kick. With endless options, there's something for everyone at MomoWay.
Get Creative with Delicious Dipping Sauces to Compliment your Meal
Topping off the perfect bite of momos is the addition of a unique and flavorful dipping sauce. With several delicious options to choose from, Momoway's offers sauces such as sweet chili, tamarind, and tomato to blend in ideally with every pallette. If you're looking for something extra special, why not create your own homemade sauce by mixing together fresh ingredients for an extra touch of flavor? Make each meal unique and memorable with Momoway's signature momos and tasty dipping sauces.
Enjoy Momoway's Momos Anytime – At Home or On-the-Go!
Keep cravings at bay with Momoway's momos – available for delivery, curbside pickup, or come directly to visit us and dine with us! Get your fix of deliciously crafted momos anytime you need. Whether it's a stay-in night at home or a quick drive-thru experience, Momoway's has you covered. Come experience the joy of momo-making with our delicious selection and get ready to satisfy even your most insatiable cravings.